DS 9 E-TENSE is a symbol of French style. Our new limousine is designed with the E-TENSE hybrid drivetrain, which offers technical excellence, extraordinary comfort and an unparalleled level of sophistication. The perfect combination of a combustion engine and an electric motor that allows you to drive in electric mode for up to 60 kilometers, which effectively reduces the cost of moving around the city.

A silhouette full of finesse
DS 9 E-TENSE is a modern body line that is the perfect combination of elegance and dynamics. This new, very fresh and extremely intriguing style of the car is created by details such as DS sabers, Clous de Paris trim, DS Cornets and automatic sliding door handles.
The quintessence of elegance in the interior
This French limousine offers every passenger a similarly high level of comfort. The front and rear seats are heated, ventilated and equipped with a massage function. The headliner made of Alcantara© emphasizes the harmonious atmosphere of the interior.
Ubiquitous beautiful skin
The DS Opéra finish is the result of the best know-how of French motoring. The finest of Nappa Rouge Rubis leathers covers the entire dashboard and all seats. An accent with the brand's signature watch bracelet pattern adorns the seats and the steering wheel, which is fully covered in Rouge Rubis leather.
"Clous de Paris" guilloche pattern
Even the switches have a story and look unique. They are inspired by the art of watchmaking and the "Clous de Paris" guilloche pattern, which is created by small, interpenetrating elements with a pyramid motif.
Pearl stitching
It is impossible not to notice the pearl stitching, which is extremely elegant and resembles pearls. This perfectly underlines the extraordinary quality of the leathers used in the interior of the car. This unique reference to the world of haute couture quickly became one of the symbols of the DS brand.
B.R.M R180
A unique clock that appears to the passengers' eyes when the engine is started. It automatically adjusts to the season and time zone. Majestically integrated into the dashboard, the B.R.M R180 watch was designed in collaboration with B.R.M Chronographes and is a unique combination of advanced technology and elegant design.
Acoustic comfort
The windshield is covered with a special acoustic foil, which, in combination with the semi-glued body, eliminates vibrations. Inside, there is silence, harmony, peace … This is the atmosphere in the DS 9 E-TENSE cockpit. The perfectly finished interior creates the perfect conditions to enjoy the pure sound emitted by the Focal Electra® HiFi system with 14 speakers.
Intelligence and performance
DS 9 E-TENSE offers a combination of an electric and petrol engine in the E-TENSE plug-in hybrid. Driving this car means minimal (or zero) CO2 emissions and the ability to start quickly from a place in silence. This engine provides power and flexibility.
Advanced technology
DS 9 E-TENSE is the latest technology to provide you with maximum comfort, safety and satisfying performance.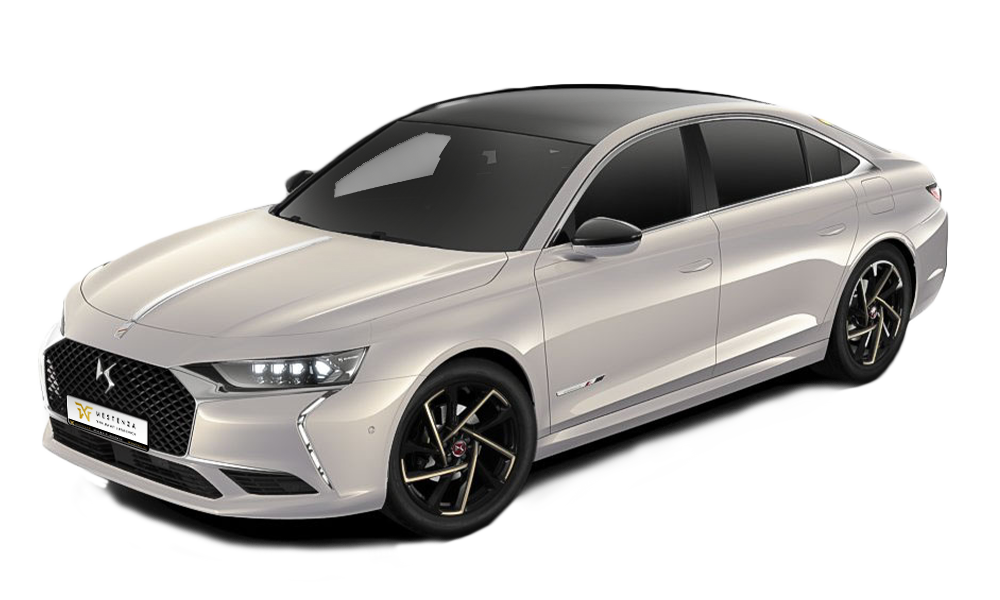 Manufacturer data DS 9 E-TENSE 225 2WD, RIVOLI +
ENGINE AND TRANSMISSION
Hybrid drive type: petrol and AC electric motor
Max driveline power 225 hp
torque system 360 Nm
Gasoline engine, R4 turbo, 1598cc
Maximum power
at 133 kW (180 hp)
6000/min
torque
at a speed of 300 Nm
3000/min
Electric engine
Maximum power 80 kW (110 hp)
torque 320Nm
Battery type Li-Ion
Amount of stored energy 11.9 kWh
Front-wheel drive type; 8-pin automatic transmission
PERFORMANCE
0-100 km/h 8.3 seconds
Top speed 240 km/h
FUEL CONSUMPTION
Average (WLTP) 1.4-1.5 l/100 km
CO2 emissions (WLTP) 33-35g/km
BODY
4-door, 5-seat sedan, length x width x height 4934 x 1932 x 1460 mm, wheelbase 2895 mm, curb weight 1839 kg, trunk volume 510 l, fuel tank capacity 42 l.