Rent Infiniti QX30 for best price!
We invite all customers who fill in our booking form and give their marketing consents to use our special offer.
---
Infiniti QX30 – a car for active people.
It allows you to fulfil your passions.
A versatile car – comfortable and ready for travel on any road.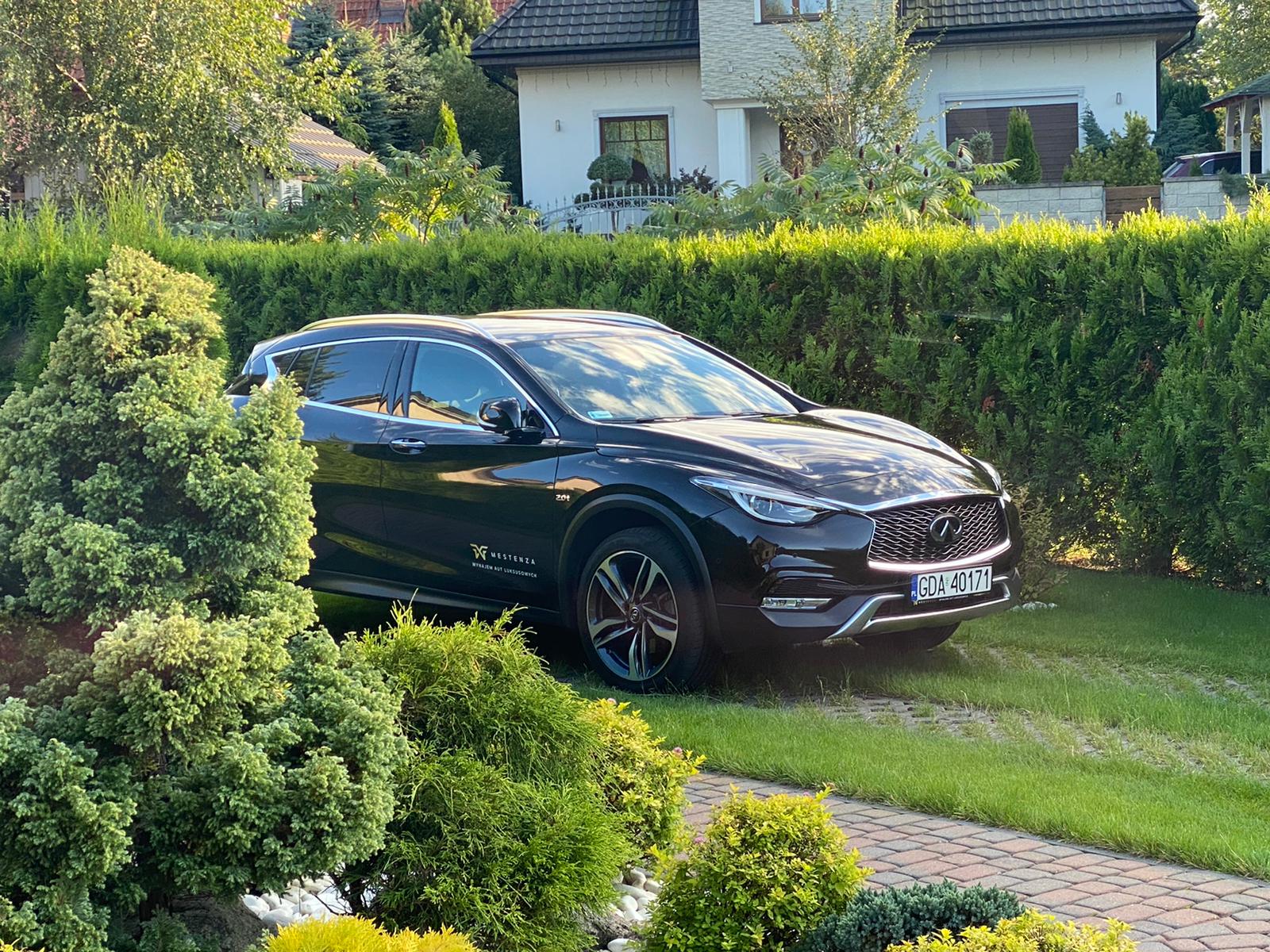 CROSSOVER Infiniti. ADVENTURE CALLS
Experience the pleasure of pushing the boundaries in the brand new Infiniti QX30. This is what a universal car looks like that makes you want to drive on the streets, go off-road, explore the city or hit the long roads… The Infiniti QX30 gives you the freedom to enjoy the life that only You can shape.
Infiniti QX30 FIRST IMPRESSION
You will be impressed even before you sit in the driver's seat and see the innovative streamline design of interior. The QX30 model is designed to take your breath away at first sight. Front or side view, it always looks great.
EXTERNAL PARTS – FOCUS ON DETAILS
You will easily recognise the brand's DNA. Formed by prevailing sharp lines, the distinctive shape of Infiniti QX30 emphasises its predatory character. The shape of unique LED headlights, inspired by the shape of the human eye, is impressive both from the front and side view of the vehicle.
EXPRESSIVE DESIGN of Infiniti QX30
The expressive, daring lines of the front and rear bumpers, combined with the wider wheel arches and side mouldings, underline the majestic and relentless character of the Infiniti QX30.
LUGGAGE? NO PROBLEM
Effortlessly opened tailgate makes loading and unloading a pleasure. Free access to the spacious luggage compartment without barriers . Do you need more space? Just fold down the 60/40 split back seat.
PREMIUM CLASS CONTACT
Infiniti InTouch System provides perfect connection for your smartphone with your Infiniti QX30. It has never been easier to send emails and texts, navigate unfamiliar places, or even simply call friends.
Infiniti QX30 – ROBUST AND SAFE DESIGN
In areas of special importance for safety, high and ultra-high strength steel was used. Also, in the event of a crush, the advanced crush zone at the front and rear deform gradually absorbing the energy of the impact before it reaches the passenger compartment.
TECHNICAL PARAMETRES
Basic parameters
Number of doors: 5
Number of seats: 5
External dimensions
Length: 4 425 mm
Width: 1 815 mm
Overall, with mirrors: 2 083 mm
Height: 1 515 mm
Wheelbase: 2 700 mm
Track width – front: 1 572 mm
Track width – rear: 1 573 mm
Ground clearance: 192 mm
Ground clearance: 4WD: 202 mm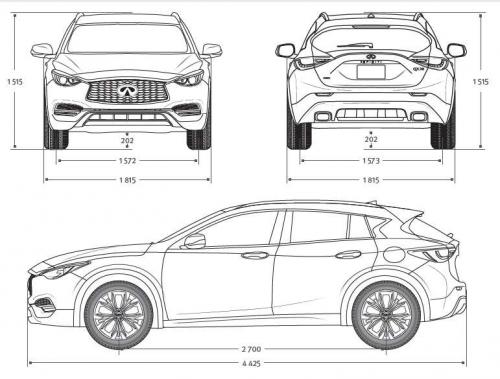 Boot space
Minimum boot space (seats up): 430 L