Rent the electric Nissan for best price!
Travel for free!!! You do not need to refuel, and you can charge the vehicle without limits for free!
We invite all customers who fill in our booking form and give their marketing consents to use our special offer.
---
100% ELECTRIC VAN
THE PERFECT SOLUTION
Nissan e-NV200 with a 24 kWh battery and 150 kilometres driving range is the perfect solution to the challenges of the city. The car is fully emission free, so city centre restrictions and pollution legislation never get in your way. Besides, electric cars can be parked for free in the paid parking zone! You can also drive on the bus lane.
The unforgettable electric car driving experience makes the 100% electric Nissan e-NV200 VAN a very interesting offer.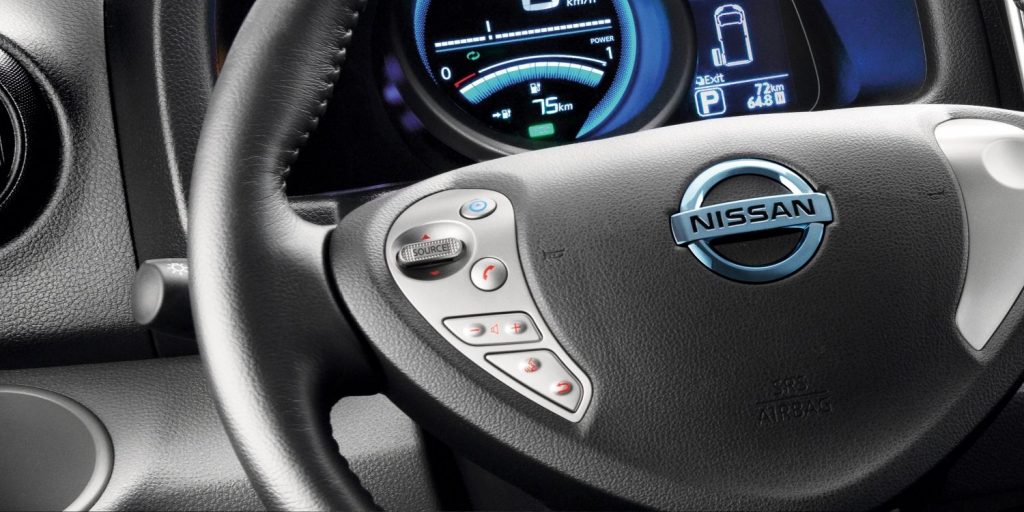 ECO-FRIENDLY – INTELLIGENT POWER
Nissan e-NV200 guarantees an exciting experience. It is a great example of intelligent power that proves driving a 100% electric car can be smooth, practical, and family-oriented. 150 km driving range and Multiple charging modes make that this versatile electric van can take you on a smooth and efficient journey around the city.
FAST CHARGING – JUST 20 MINUTES
Charge 80% of the battery in just 20 minutes. Fast Charge function is the fastest and easiest way to recharge your battery for longer trips. Just drive to the nearest charging station or Nissan dealer: The CHAdeMO charging network is constantly growing.
We provide a card for free battery charging at ENERGA – CHAdeMO charging stations.
VERSATILITY
The load capacity + versatility of the 100% electric Nissan e-NV200 are its undoubted advantages. In addition, the low load sill of just 52 cm from the ground makes loading and unloading easier. Benefit from 4.2m³ of cargo space (enough to accommodate two Euro-pallets or a load of up to 701 kg) and the convenience of a wide-opening rear door and sliding side door.
DIMENSIONS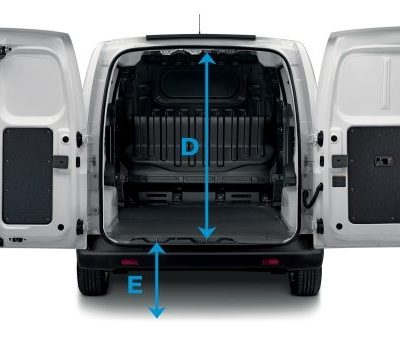 A – SPACE FOR A LONG LADDER 2.8M WITH OPTIONAL FOLDABLE PARTITION
REAR DOOR WITH 60/40 DIVISION FOR WIDER AND NARROW LOAD
B – WALL TO WALL 1.50 M
C – BETWEEN WHEEL ARCHES 1.22 M
D – HEIGHT 1.36 M
E – REAR LUGGAGE COMPARTMENT HEIGHT 524 MM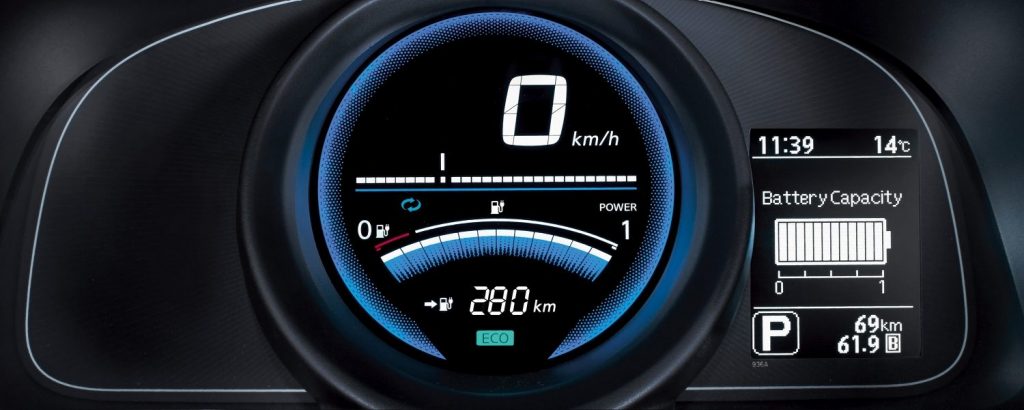 TECHNICAL PARAMETRES
Basic parameters
Number of doors: 4
Number of seats: 2
Turning circle: 10.6 m
Turning radius: 5.3 m
External dimensions
Length: 4 560 mm
Width: 1 755 mm
Width with door mirrors: 2 011 mm
Height: 1 858 mm
Wheelbase: 2 725 mm
Track width – front: 1 530 mm
Track width – rear: 1 530 mm
Front overhang: 987 mm
Rear overhang: 847 mm
Ground clearance: 153 mm
Loading area dimensions
Width between wheel arches: 1 220 mm
The height of the loading sill: 524 mm
Transport properties
Rear door – width: 1 228 mm
Rear door – height: 1 268 mm
Side door – width: 700 mm
Side door – height: 1 171 mm
Load compartment – length: 2 040 mm
Load compartment – width: 1 500 mm
Load compartment height: 1 358 mm
Maximum load capacity: 770 kg
Engine parameters
Manufactured since 2015
Engine type: electric
Engine power: 109 hp (80 kW) at 3 008 rev/min
Maximum Torque: 254 Nm at 0-3 008 rev/min
Front engine mounting, transversely
Steering system
Steering System Type: Electric Power Rack Gear
Tires
Basic tires: 185/65 R15
Brakes
Type of brakes (front): ventilated discs
Type of brakes (rear): ventilated discs
Brake disc thickness (front): 28 mm
Brake disc thickness (rear): 16mm
Brake disc diameter (front): 283 mm
Brake disc diameter (rear): 292 mm
Suspension
Suspension type (front): McPherson struts
Suspension type (rear): leaf spring